by David Parker, Publisher & Co-Founder
Lived Places Publishing was founded by a career professor and a career educational publisher with a specific vision: A world where difference and identity are celebrated by all. We believe that we can best contribute to achieving this vision by publishing short, course-reading materials that allow faculty to select from an ever-growing array of titles that explore the intersection of identity and place. We further believe we can support achieving our vision by offering affordable access to institutions through the university library, and by ensuring an equitable share of each book sale is returned to the authors and to supporting open access publishing.
We have collections of course-reading books underway in Black Studies, Disability Studies, Education Studies, Queer and LGBT+ Studies, The Emergent Entrepreneur Collection, Asian Studies, and Latinx Studies. And we are working toward launches of new collections in Incarceration Studies, Refugee Studies, Gender Studies, and more. We have a slate of titles soon to publish with titles such as, Stories of Black female identity in the making, Improving the healthcare experience of people living with sensory disability, Queer Asian identities in contemporary Aotearoa and New Zealand, and Music and Black community in segregated North Carolina.
The First Step Sets the Path
The first book delivered to the world by a new publisher must set the tone for all that is to follow. The first book must embody the vision and values of the publisher and, most importantly, it must be a damn fine book! From my seat as co-founder and publisher of Lived Places Publishing, I could not be more pleased and proud to introduce our first book: Special Educational Needs and Disability (SEND) in UK schools: A parent's perspective, by Dr Carrie Grant. Carrie is a passionate and learned advocate, representing the voice of parents and their SEND children in the place of the school system. This book kicks off our Education Studies collection, led by Dr Janise Hurtig, and establishes well the critical intersection of identity (SEND) and place (UK schools). A coming generation of students of education will forever be better suited to their profession for having access to Carrie's excellent book.
As is fitting for any inaugural moment, we will be hosting a book launch event on July 11th in London to celebrate this fine book. Our celebration will extend to the launch of Lived Places Publishing as a new publisher, and as an emerging platform for new authors and new voices from around the world. Lived Places Publishing recently passed one year since our inception. We have seven collections in progress, more than 30 books in development, and authors and collection editors signed up from around the world.
The launch of Special Educational Needs and Disability (SEND) in UK schools will be a celebration of the launch of a book, a publisher, and a vision of a world made better through the contributions of so many wonderful course-reading books to come.
---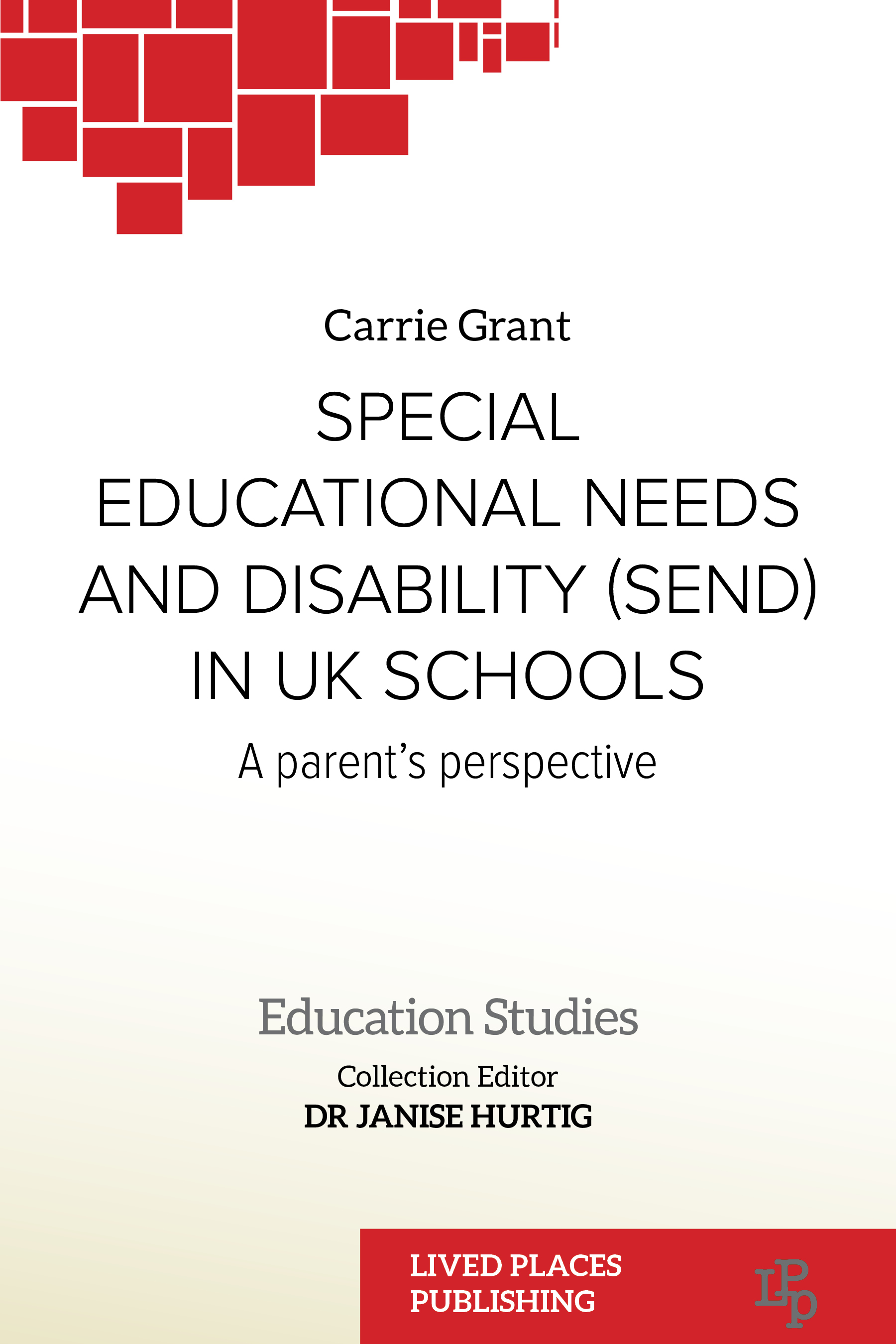 If you are interested in attending the launch event for Lived Places Publishing, featuring Dr Carrie Grant PhD (h.c.) talking about her new book, please email eleri@livedplacespublishing for more details.
Lived Places Publishing's first book, Special Educational Needs and Disability (SEND) in UK schools: A parent's perspective, is OUT NOW!
Available in ebook and print from the Lived Places website and Amazon.
---
Author headshot © Sophie Mutevelian. Book cover © Lived Places Publishing.